Chez Nestor launches its line of Premium flatshares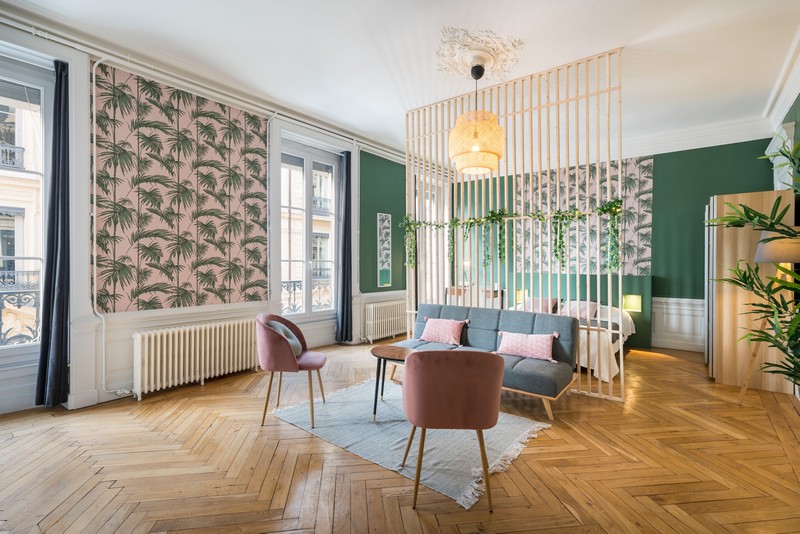 Are you dreaming about flat-sharing in a spacious Parisian apartment? There's some news at Chez Nestor Paris! Chez Nestor is launching its PREMIUM line of accommodation suitable for young workers who want share good times in stylish fully furnished and equipped apartments! Discover the new features and advantages of this new way of life in our luxury premium flatshares in the heart of Paris city centre!
According to a study by Appartager.com, 46% of their clients who are looking for flatshares are young workers. The co-living or co-renting trend for young workers is already well established in some of European countries, such as Belgium, England or Luxembourg… and It's gradually becoming more popular in France. This is why Chez Nestor is interested in this phenomenon : luxury shared accommodation in the city center of Paris. Our new line offers large common areas, high-quality facilities and of course shared rent in individual lease : discover everything there is to know on our latest launch in this article.
---
Premium flatshares = moments spent together
---
One of the biggest advantages of flatsharing is spending time with other people: sharing meals, watching sports, playing video games, having friends over, learning new languages with your roommates from across the globe! Living in flatshares means you can socialise with your flatmates or chill out in your room when you need some me-time. It's more than just a financial benefit, sharing accommodation is a good way to relate to others and open up. Usually favoured for short-term housing, furnished flatshare is the accommodation solution of choice by students moving away for studies,  but also by expats and young workers. What could be better when arriving in a new city, than meeting friends within your own home?
So that you can have these great moments together, Chez Nestor has designed large common areas within their new premium fully equipped flatshares: a large living room / dining room with furniture thought for your greatest comfort (large sofa, armchairs, flat screen TV…)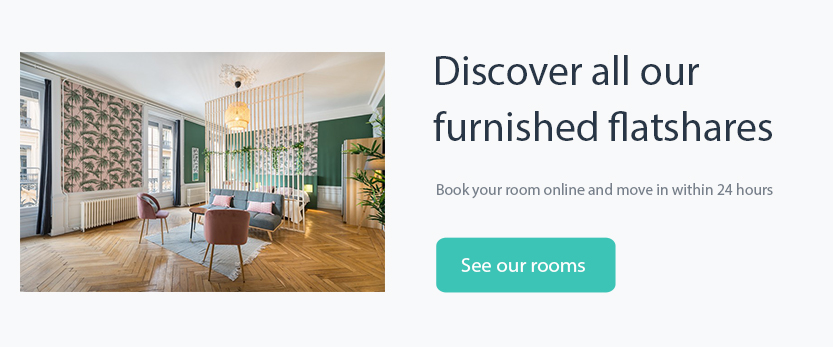 ---
Premium flatshares = even more comfort and equipment
---
If all our flatshares are renovated, furnished and equipped, this new range of flats offers you a luxurious experience of a furnished flatshare.
#1 Ultra-equipped common areas
We have taken the premium to the next level by offering you top-of-the-range appliances and trendy decoration.
In the kitchen, you'll find high end appliances: dishwasher, washing machine, kitchen utensils, there is now a tumble dryer and a coffee machine. The living room is also at the forefront of luxury as tenants will be able to enjoy:
A dining area big enough for flatmates and guest!

A large and very comfortable sofa and armchairs to share moments with friends.

Storage furniture

An ultra HD TV

A sound system
#2 Comfortable bedrooms
When you share a flat, your bedroom should be your own private space, so it is important that you feel comfortable there. For even greater comfort, Chez Nestor relies on premium decoration and equipment:

A king size bed (160x200cm) for more space with a custom headboard.

A memory foam mattress for a good night's sleep.

Bedding worthy of a 4* hotel for an ever softer bed. (High end selection of bedding)  

A large dressing room to store all your clothes and accessories.
---
Premium flatshares = high end renovations
---
In order to offer the best to our tenants, our teams renovate the apartments to the finest detail. First, all the rooms in the apartment that do not meet the standards are completely redone. Then, each room of the apartment is studied and decorated by our design team. They choose furniture, layout and colours carefully. The decoration is well crafted, without being too overpowering to allow our tenants to also add their own personal touches too. Each room has its own identity and atmosphere. The colour of paint is chosen to match the stylish interior decor, so that all elements of your premium flatshare works in harmony.
The icing on the cake: for our premium flatshares, we only choose apartments with "charming" features to add even more character. For example, our first premium flatshare, located in the 10th arrondissement of Paris, a few metres from the "Jacques Bonsergent" metro station (line 5), has a long balcony overlooking the Parisian rooftops. Inside you'll find beautiful ceiling features and a pretty fireplace for added style.
If you are interested in this adventure, visit our website to discover all our shared apartments in Paris!
Tell us more in comment! Give us your opinion about this article and the new range of PREMIUM flatshares by Chez Nestor. And of course, do not hesitate to share on the networks!
It's not always that easy to find a flat. You'll find here advices and tips from Chez Nestor, to help you find the apartment of your dreams.