How to make the most of your apartment space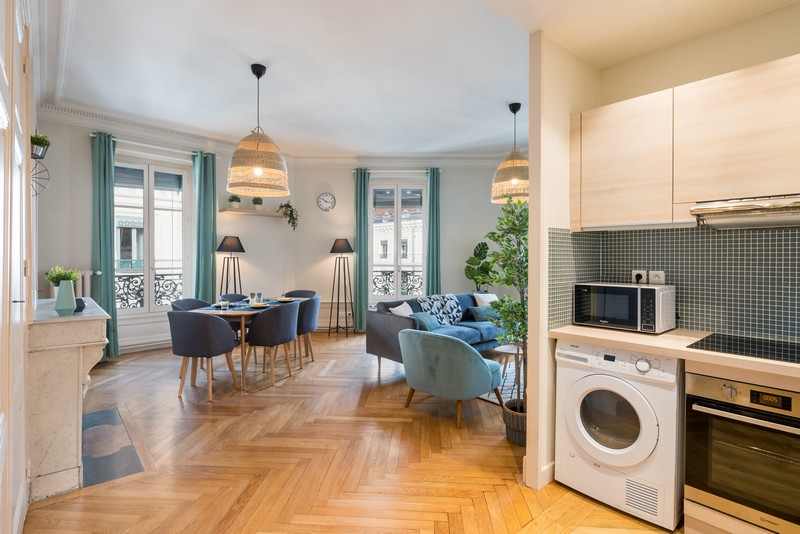 Your apartment is a little small but you don't intend on moving? Don't worry: here's some tips to help you optimize your apartment space. Whether you decide to fully renovate or you simply want to re-decorate, Chez Nestor's experts in renovated and furnished shared apartments have some top advice to help you make the most of your interior, whilst improving your comfort.
Chez Nestor's quality and design experts rethink, optimize and reinvent the spaces inside our flatshares every day. Indeed, all our shared accommodations are completely renovated and decorated to provide the best levels of comfort for our tenants. Here are our specialists' tips on how to reproduce their work in your own home:
---
Optimize space with intelligent storage
---
If you live in a studio, you may not have enough space to store your things. This results in a disorderly space or an accumulation of objects that makes your small space look even smaller. To break out of this vicious cycle, you can opt for a functional and practical layout. Select storage spaces that will allow you to make the most of every corner of your home. Place high shelves on your walls or swap your large cupboards for an integrated sliding storage space, which can easily be fitted with drawers, boxes and folding rods. In the bathroom, the under basin units can be used to provide additional storage space for clean towels or cosmetics.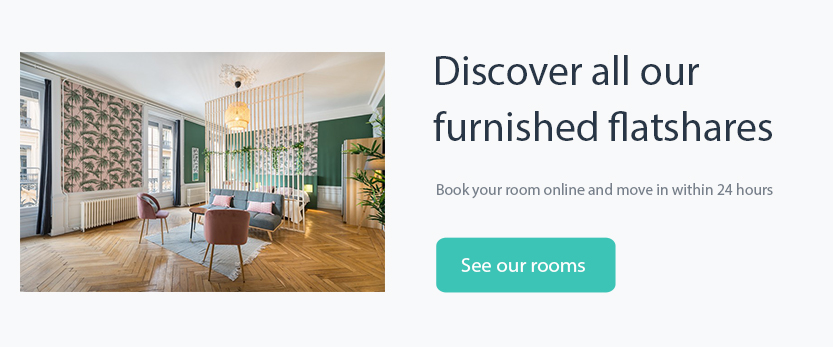 ---
Decorate to make the room look bigger
---
If you're not a natural handyman, or you want to avoid undertaking too much work in your rented accommodation, then you can choose the decoration and an adapted layout to make your rooms look bigger! Place wall mirrors facing the windows to increase the brightness and give an impression of greater volume. For paints, choose light shades such as white or beige. You can paint the skirting boards too to give the impression of higher ceilings.
---
Redistribution of space
---
Renovating your home is another way to gain space, especially if you take the time to rethink the organization of the rooms. A diagnosis will help you evaluate the strengths and weaknesses of your home before a renovation. For example, if your kitchen takes up a lot of space leaving you with a little living room, you can call in a professional to remove the walls for an open plan living-kitchen space. Is your family getting bigger or do you have relatives coming to visit? Creating a mezzanine to add a bed is an excellent alternative! You can also transform certain zones by giving them a new functionality. For example, your corridor can be turned into a study, or you can turn an alcove into a desk space. You can do the work yourself, but it is often advisable to use professionals for certain projects. It is even possible to obtain quick and free advice thanks to online work-estimation platforms. "Renovation Man", for example, provides free and detailed estimates to help you plan the costs of your projects.
---
Folding furniture: the multifunctional storage solution
---
Renovating or changing your furniture is another way to save space. In a studio, the installation of a wall bed or sofa bed is a wise choice that will allow you to modify the functionality of the area: living room during the day and bedroom at night. Foldable tables and stackable chairs are ideal for entertaining your friends and will be forgotten once the party is over.
Chez Nestor's shared apartments are completely renovated, furnished and decorated for your comfort! Compare hundreds of offers, in the heart of the largest cities in France and Spain, and book the room of your dreams in just 10 minutes on our secure site.