Interior design trends for your flatshare!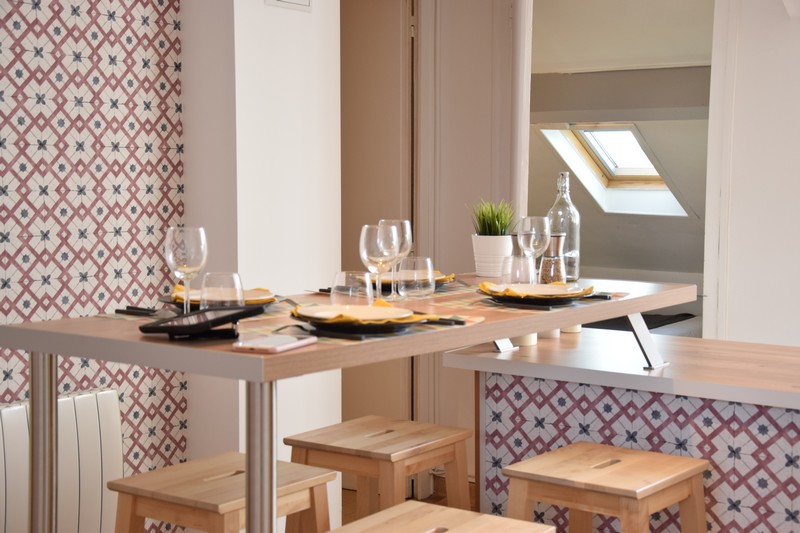 You want to be at the current cutting edge of interior design to have an ultra trendy flatshare? We researched just for you THE styles going from the sober one to the eccentric one… just to keep your flatshare decoration in the flow! Chez Nestor gives you some advices to decorate your housing according to your style while sharing an apartment! Well yes… everyone has to agree!
---
Interior design tendencies
---
We can clearly say that the Hygge : Scandinavian style which creates a zen, welcoming and bright atmosphere is the tendency of these latest years. These main characteristics? Big spaces, pastel colours, clear wood and design pieces of furniture. This decoration which combines practicality modernity and elegance, seduces most of us.
You want to adopt the Nordic trend in your flatshare? It's easy! First of all, bank in clear colours, ideally white. Add a touch of colour or prints to give a cosy and welcoming atmosphere. Choose design types of furniture with original forms and flat colours.
Then, make them all more beautiful with some plants and some personalized pieces as pictures, paintings, plaids (think cosy!), some books or other objects… In short, you get it!  Your apartment is trendy. If you need ideas, you can find on this link some decorations 100% Scandinavian.
Well, even if our dear neighbours from the North have a lot of taste in this sector, this style can be a little too calm and tidy for others. That's why 2018 takes a turning point in interior design… driving straight to a boom of colours and prints! Sombre colours, a lot of prints, flowered walls, and all this in the same piece. This eclectic style says as "maximalist" gives free rein to your mind and more freedom. For the decoration of your flatshare: cross styles and target eccentricity!
Tricks? Select your prefered objects you could see in the same room, you never have too many. Have the audacity to mix them: pictures, materials, plants… (we wrote an article on this as well!) even if you think they can't match together! The goal is to create a visual impact. Opt for fussy wallpaper and fussy paints, and add objects from all around the world! Careful, pay attention to them all. It seems messy but it's actually well designed! Don't fall down in the messy trap! You're missing an inspiration? Don't hesitate to cast a glance to some pieces from an eclectic style.
Two different styles to adopt for your flatshare: one is sober, the other one is very original! It's your turn to choose! Above all, you have to take a decision with your rommates about the common spaces decoration.
---
Find a decorated flatshare : Chez Nestor
---
At Chez Nestor, leader in furnished, equipped ans ready-o-live flatshares, all our apartments are decorated with a lot of care by our teams. A sober and modern style in a very Nordic spirit is offered for all apartment rooms: kitchen, bathroom, bedrooms… A simple base you can accessorize according to your desires, in agreement with your flatmates! Don't give you a grief, the base of the decoration is already here!
Chez Nestor is THE perfect solution for a flatshare with a simple and delicate decoration!
Follow all our decoration trends, but also our news, daily life, teams and shared accommodation on our Instagram account!