The 6 best barges in Lyon!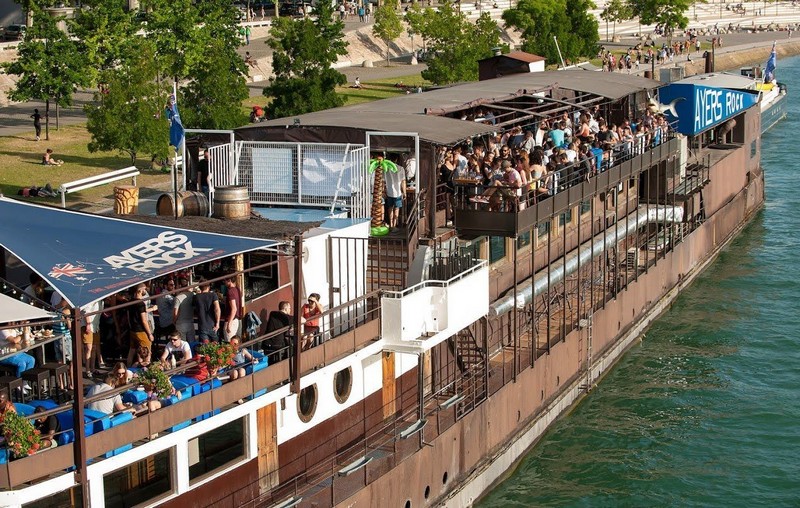 With two rivers, the Saône and the Rhone, Lyon is crowded with barges. So many, that sorting out our top 6 for you wasn't an easy task. If you've just found a flat in Lyon, you must spend time in one of this barges!  Whether it be to go out for a drink or to party all night, you will definitely have a good time here! Discover our 6 favourite barges in Lyon!
---
#1 Le Star Ferry

---
The Star Ferry is located on the banks of the Rhone. It is a well-known and highly appreciated pub in Lyon, known especially for its Happy Hours. Between 5 and 7pm, you will grab one of the many beers offered for only 5€. Not only they offer a broad selection of beers, but they also cook some of the best burgers in Lyon, offer large platters of cold cuts and typical cheese (e.g. Saint Marcellin or Saint Félicien), and prepare colourful cocktails. 
However, consider that the Star Ferry only opens its doors during summertime, when you can comfortably sit in its broad terrace.
One of the downsides of this pub is that it is so popular, that it is sometimes quite complicated to find a sit. But don't give up! Ask the staff and they'll be more than happy to find a solution for you and your large group of thirsty friends!  
---
#2 La marquise
---
According to its clients, the Marquise has two different sides. During the day, people enjoy its sunny terrace while sipping at their drink. Yet it changes drastically when the sun goes down: loud music and dancing people wait for you on the inside of the boat. The Marquise offer one of the most varied agendas of events – from rap to electro, reggae and latino music! Most people are fond of the surprise element and come here ignoring which kind of music they will listen to. But otherwise, check their Facebook or website page to discover its program.
The Marquise is highly appreciated for its atmosphere, its advantageous location and most of all its free entry! However, drinks here can be expensive, so prepare your wallet.
---
#3 La passagère
---
The Passagère is the tiniest of the barges we've described so far. It looks more like a small concert hall or a bar than a proper nightclub. So, if you planned to unleash yourself on the dancefloor, go ahead and move along – this is not the perfect place for your night. However, if you crave to meet new people, this is the right place: people are keen on meeting new peers and having a good chit-chat in its tiny and cosy room.
Many events take place here as well, stay tuned on its Facebook page to avoid missing any of them! Its vintage decoration is its signature. After one or two pints check out their toilets, apparently people are very impressed! If you feel like chilling in a cosy atmosphere, you'll feel like a fish in the water here.
---
#4 Le Sirius
---
Not far from the Marquise, you will find the Sirius – the best place for drinking and hanging around with other students. This bar is composed of two separate spaces with two distinctive styles of music, a bridge and a sunny terrace on the banks of the Rhone where you can enjoy a beer during the hot days. Decoration and style are simple but original. This is the perfect place if you like dancing all night to the vibrant sounds of commercial music. Entry is usually free, except for concerts. Check its Facebook or website page to discover its agenda and plan your evening! Table service is not offered, so be prepared to go to the bar and come back to your drinks by yourself.  
---
#5 Le Sonic
---
Unlike all the barges we described so far, this one is located on the Quais des Etroits, close to Perrache train station on the banks of the river Saône.
The Sonic is known for its underground and alternative atmosphere. Alternative rock, electro and underground music are on the agenda. Check out the "Dark '80s", a regular and popular event that takes place here every month. Prices are competitive for both entry and consumption.
---
#6 L'Ayers Rock Boat
---
The Ayers Rock Boat is probably the most crowded and thus the most criticized. The more popular this place became, their prices got higher and their customers, younger! However, the Ayer is still very popular and loved by the Lyonnais youth. The place is huge with more than one bar on the inside, a broad dancefloor where you can dance all night and a roofed-terrace where you can smoke even when it's raining! The entry is free on Mondays, Tuesdays and Wednesdays. Consumption may vary from 6€ to 8€.
No more incessant administrative procedures and endless application files! Chez Nestor offers you rooms in flatshares that are fully ready to live and can be booked online in less than 10 minutes.
It's not always that easy to find a flat. You'll find here advices and tips from Chez Nestor, to help you find the apartment of your dreams.
Don't miss your room! In just a few clicks, create a customized reminderto be alerted when the room of your dreams will be available.